Our goal at East Bay Pediatrics is to provide outstanding medical care to children and adolescents. We are committed to the promotion of preventive medicine such as the implementation of universal immunizations and the judicious use of antibiotics. Additionally, we play an active role on the teaching staff at the Alpert School of Medicine at Brown University. We also mentor students from numerous other training programs. During your visits, you may therefore meet medical students, nurse practitioner students and physician assistant students rotating through our office. We are extremely proud of the fact that our doctors have received several teaching awards from the medical school. Furthermore, we were one of the first pediatric practices in the state to use the electronic medical records (EMR) and to become a NCQA (National Committee for Quality Assurance) Certified Medical Home. These aspects of our medical practice help us provide coordinated and comprehensive care to you and your children. All of our physicians are board certified by the American Board of Pediatrics.
The philosophy at East Bay Pediatrics is that we deliver the highest quality of healthcare through teamwork. In addition to our pediatricians, nurse practitioner and physician assistant, our team includes our Practice Manager, Billing Manager, and a staff of highly qualified administrative and medical assistants.
Angela Grenander MD
After moving from Sweden to RI as a teenager, Dr. Grenander attended Brown University where she received both her undergraduate and medical degrees. Upon completion of her residency at Rhode Island Hospital, she and Dr. Dennison founded East Bay Pediatrics in Barrington more than 35 years ago! As a Clinical Assistant Professor of Pediatrics at Warren Alpert Medical School of Brown University, she mentors medical students as they rotate through pediatrics during their training. She is the proud mother of four children.
Marco Ferretti MD
Dr. Ferretti attended Northwestern University and received his MD from Michigan State University. He completed his pediatric training at Hasbro Children's Hospital in 1998 and joined East Bay Pediatrics. He is the father of four children. In 2010, Rhode Island Primary Care, a statewide independent practice association of more than 150 primary care physicians, named him the Outstanding Physician of the Year.
Melissa Curran MSN, cPNP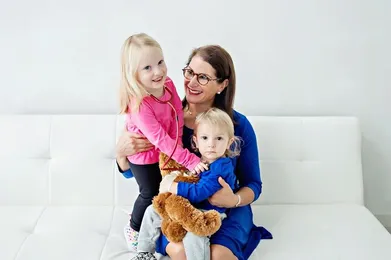 Melissa attended Trinity College and received her Master of Science in Nursing from Yale University. She has been practicing pediatrics as a certified nurse practitioner since 1991, starting at the UMass Medical Center Emergency Department and joining East Bay in 1996. An Associate Professor of Nursing, she is a clinical preceptor for students pursuing their Advance Practice degrees from Yale University, The University of Rhode Island, and Simmons College. She is the proud mother of three daughters.

Ariana Raufi MD
Ariana Raufi, MD is a native of Rhode Island. She received both her undergraduate and medical degrees from the combined 8 year Program in Liberal Medical Education at Brown University. Dr. Raufi spent one year during medical school at Children's Hospital Los Angeles working on research projects while always being on the lookout for famous celebs! Dr. Raufi completed her pediatric residency in Chicago at Northwestern / Lurie Children's Hospital where she stayed as an attending physician in their emergency department. Dr. Raufi has received multiple grants for her work in pediatric obesity prevention, diet and chronic disease prevention and pediatric advocacy and activism.

Sara McDole PA-C
Sara McDole is a native of Massachusetts. She attended Rhode Island College and received her Master of Science in Physician Assistant studies from Bryant University. While in school, Sara completed pediatric clinical rotations at East Bay Pediatrics and Hasbro Children's Hospital Emergency Department. She worked for years as an advanced practice provider in palliative care medicine and has decided to pivot her career to pediatrics! In the Fall of 2022, she and her husband welcomed their first baby!
Staff assignments may vary due to vacation schedules.
Administrative Staff: Valerie, Sue, Chris, Denise, and Natalia
Medical Assistant Staff: Andrea, Gina, Ashley, Julie, Bobby, and Gabby
Nursing Staff: Amy
Office Manager: Diane